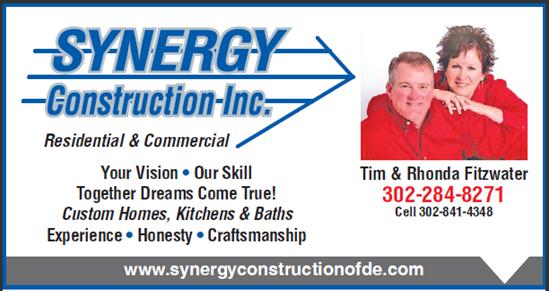 Hello, My name is Tim Fitzwater. I am the Owner and President of Synergy Construction, Inc. I have 30 years of experience in the building and remodeling trade. Over those years I have worked for several different builders and learned many do's and don'ts of the trade. I have built Synergy Construction around my own personal Christian beliefs. Synergy was established in 2001 with the plan of creating a positive work environment and providing a QUALITY product to the consumer in a professional and timely manner. It is my goal as a business owner to help every person I can, whether performing work for them or employing them. I would consider it a privilege to be able to bid and hopefully do any work in the building trades that you may be in need of.
Please feel free to contact me via my cell phone (302-841-4348) if you would like to get together and discuss any possible future projects.
Thank you so much for your time and attention to this letter of introduction to my company Synergy Construction, inc.
Timothy M. Fitzwater
Synergy Construction, Inc.